Transportable Ice Plant
移动式制冰厂
2008 Model - Fully Containerized
2008款 – 完全集装箱化
Created with state of the art refrigeration technology and a 21st Century environmentally sensitive approach to the production of large ice blocks, this is a completely mobile high-volume ice producing machine.
集成一流的制冷技术及二十一世纪的环保设计思路,本套制冰设备是真正完全意义上的移动式高产量大块冰的成套生产设备。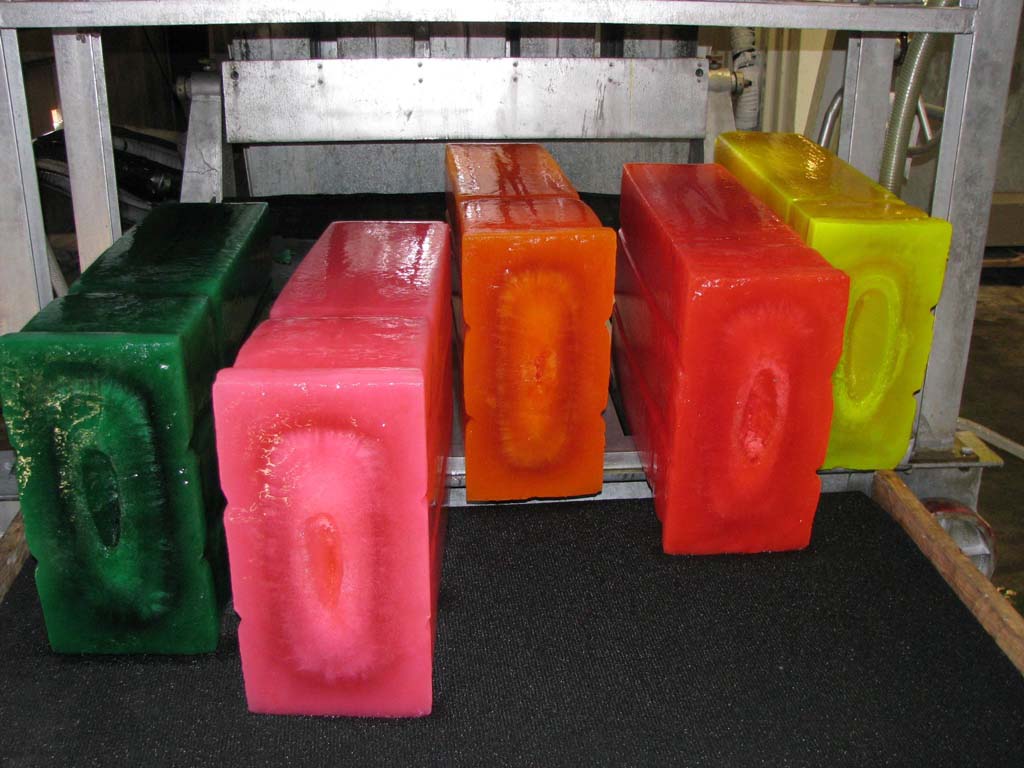 Machine utilizes the traditional method of brine tank freezing with an environmentally conscious refrigerant of r-507. This results in timely and high quality production using proven technology. Standard 320-pound blocks of white ice can be ready for harvesting in as little as 40 hours. Crystal clear carving or specialty colored blocks can be produced within a 72 hour window. The current capacity of the operation is 32,000 pounds (one hundred 320-pound blocks) of crystal clear carving block ice per day. If clear ice is not required, the equipment can produce as much as 55,000 pounds per day of standard white ice.
该设备采用传统的盐水制冷方式,使用环保型R507制冷剂,得以在这种成熟工艺的基础上快速生产高质量的大块冰。标准的320磅的白冰可以在40小时内完成。水晶般的透冰或特殊颜色的冰可以在72小时内完成。目前该套系统的生产能力是每天32,000磅透明冰(每块冰重320磅)。如果不需要制作透明冰,则每天可生产55,000磅的标准白冰。
All equipment necessary to produce ice is included in this comprehensive system:
该成套系统包括以下部分:
· Self-contained trailer-mounted 40' shipping container which houses all of the refrigeration mechanical.
· 承载在40尺标准海运集装箱内的制冷系统
· (4) 40ft x 8 ft x 5ft brine tanks with overhead lifting cranes. Each brine tank houses 17 rows of 5 cans for 85 cans per tank. There are 340 galvanized steel cans, each with a capacity of 40 gallons of water.
· 四个40英尺 x 8 英尺 x 5英尺的盐水池。顶部装有吊车。 每个盐水池内有17排冰桶,每排5个,共计85个冰桶。这些冰桶材质为镀锌钢板,每个盛水40加仑。
· Two 40 HP screw compressors in operation, plus one new standby compressor provided.
· 两台40马力的压缩机运行,另外还有一台备用。
· Complete air distribution system to create crystal clear carving blocks.
· 完整的吹气系统,用于生产透明冰
· All hosing connectors and pumps to keep brine circulating within the tank and through the refrigeration system.
· 配备所有的管路连接和水泵,保证盐水池和制冷系统的盐水循环。
· Reverse osmosis water filtration system.
· 反渗透式过滤水系统
· Complete power panel and distribution components. Power for the system, whether via land power or generator, is 380v or 480v at 50hz/60hz max designed draw is 120KVA.
· 完整的配电系统。可直接使用当地接电,或者通过发电机转换电制,可使用的电力标准为380伏/50赫兹或480伏/60赫兹。最大设计耗电量为120千伏安。
· Complete list of equipment and all flow charts, wiring diagrams, etc. provided.
· 提供完整的设备明细表,流程图,电路图等
· Designed to be used in ambient temperatures up to 97oF (36.1oC)
· 设计使用环境温度为97华氏度(或者36.1摄氏度)
· Can be used on any type flat surface (cement, asphalt, gravel)
· 可放置在任何平面上使用(水泥,沥青或者碎石)
· Can be used indoors or outdoors (has provision for canvas roofing for outdoor use, canvas not included)
· 室内室外均可使用(室外使用时可使用设备自备的篷布架,但是篷布不包括在供货范围内)
This unit was custom built for specialty use within the ice sculpture industry.
本成套设备是专门为冰雕行业生产的。
It is presently in operation in Dallas, TX where a project specific run of 4,500 ice blocks will be completed in mid-November. Unit will be available upon completion of this project. Balance of 10 month factory warranty (activated April, 2008) transfers with purchase.
目前该设备在德克萨斯州的达拉斯市运行,为将于十一月中旬制作完成的冰展项目生产4500块冰。 该项目完成后设备即可转让,与设备一起转让的还有10个月厂家质保期的尚存时间(质保期自2008年4月起)。